Things have been a bit crazy around here lately, but I'm hoping that in another week we'll have some before and after shots of the painting project.  Although I know you're just chomping at the bit for pictures of 70s paneling and previously dingy walls, for now you'll have to settle for some Thanksgiving shots of Liam.  Disappointing, I know.
With GGDad and GGMom before the chowing began:
Liam's Thanksgiving feast consisted of two courses:  yeast rolls and candy corn.  He cleansed his palette between the two with a smidge or two of a turkey cake pop.
Before the massacre:
The sacrificial fowl: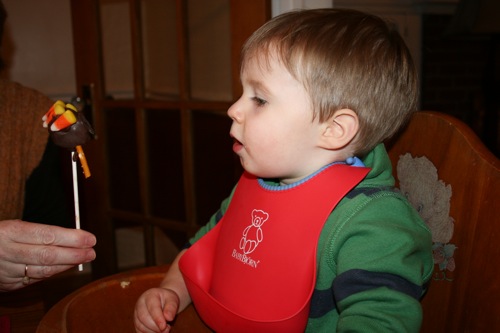 Nom, nom, nom: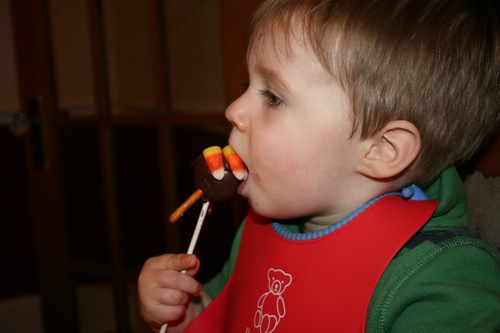 After the decapitation:
Candy corn, dinner of champions:
The face that prompted Liam to learn the phrase "GGDad is CRAZY!"  (Can you blame him?)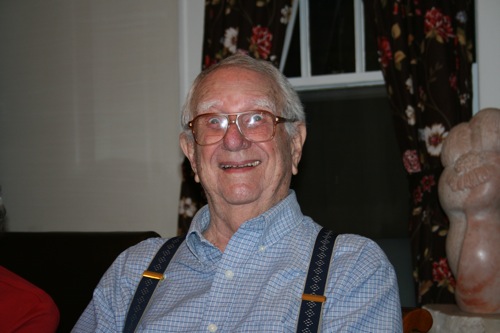 White flour and high fructose corn syrup combine to create quite a sugar high.  Who'd've thunk it?  The primary result was about 20 minutes of Liam rolling a car down the hall at my parents' house and screaming with delight as it was rolled back and Matt helped him jump over it as it came his way (let no one ever say that silliness isn't valued in this family).  The secondary result was some of my favorite pictures of Matt and Liam: