Saturday marked the beginning of week 24.  My breathing is a bit better (in no small part due to medication) and I had one good night's sleep on Saturday night, so I consider that a win.  My major symptom lately is that I cannot stop baking.  Now, at least I have the good sense to eat one serving and then send the rest to work with Matt, but it's almost compulsive at this point.  Liam thinks it's great because he loves "helping" me (he's still young enough that I get away without ever giving him any of what I've made and he's forgotten about it by the next morning if I hide it away and make no promises).  I'm sure people at Matt's office are beginning to wonder what my problem is, exactly…Anyhoo, on with the pictures.
Week 24 in my pregnancy with Liam (This week I've included two shots, because it feels like neither one is really comparable to my picture from this time, but at least you can get a mental picture after looking at two shots.  Also, I couldn't get the red-eye out of one of the shots, but that may be because I was mentally shooting daggers out of my eyes at that point, so no computer fix is going to help the situation.  Also, I apologize for the bare tummy.  Why I thought this was a good idea, I don't know (although I make no promises that it won't happen again, since sometimes it's just the most impressive way to show how I'm feeling…my guess is that last time I thought I was pretty impressive at this point…I had absolutely no clue about what was to come.):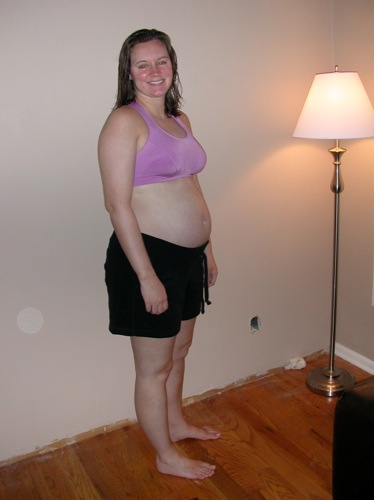 Week 24 in my pregnancy with Baby Girl (aside from the fact that this was taken at around midnight after a lot of driving therefore rendering me completely exhausted, I think that this looks pretty much identical to last week's shot):
That's all I've got.