It was another gorgeous Atlanta day today and as luck would have it, we'd planned a playdate with Walker and Jessica so we schlepped over to Morningside with what felt like all of Paige's worldly possessions so she could nap while Liam and Walker played the afternoon away.  It was an absolutely wonderful afternoon and Liam spent the entire ride home (with a brief break to talk about trains as we passed the tracks) talking about how he wants to go back to Walker's house.  Right.  Now.
For once I managed to get some fabulous pictures of my sweet boy (and his cousins) while Paige was sleeping.  So here they are:
Fred Flintstone reincarnate: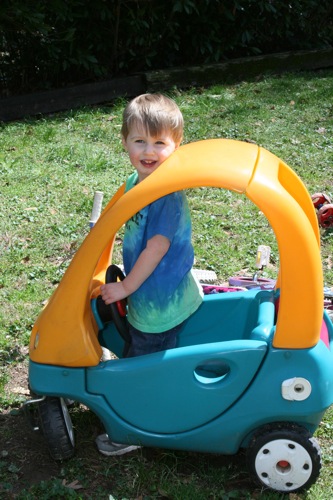 Heeeeerrrre cooooommmmmes Walker!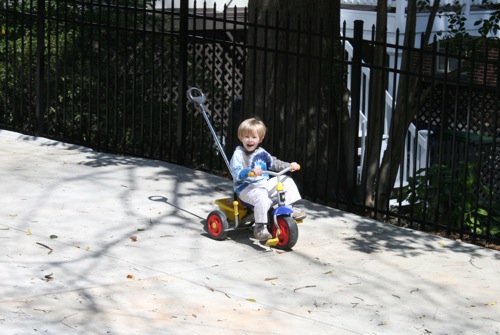 Liam takes a turn on the big wheel: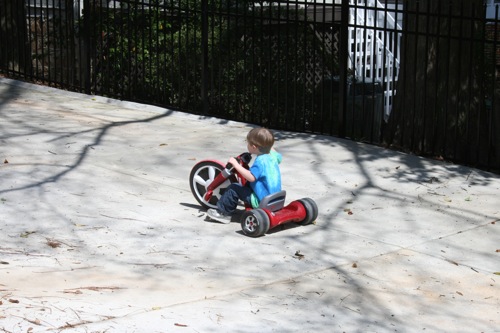 Two ships passing in the night: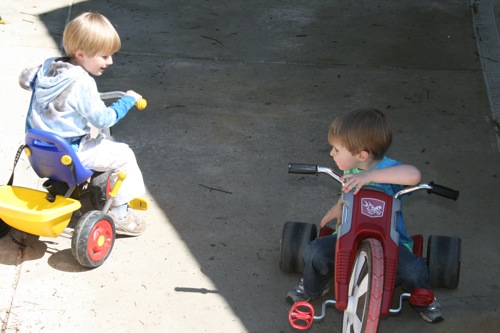 Walker's excited: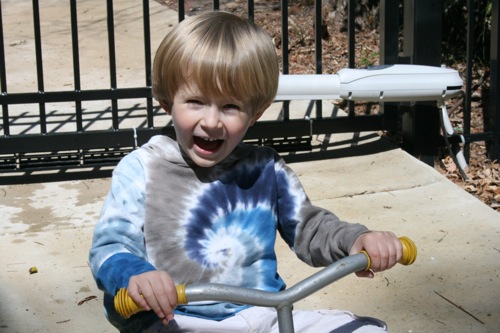 Liam's not so sure: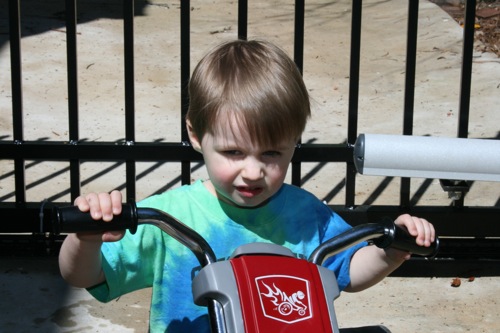 On his first time down the hill…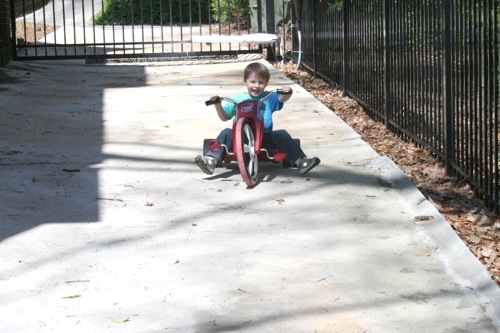 Liam had a blast!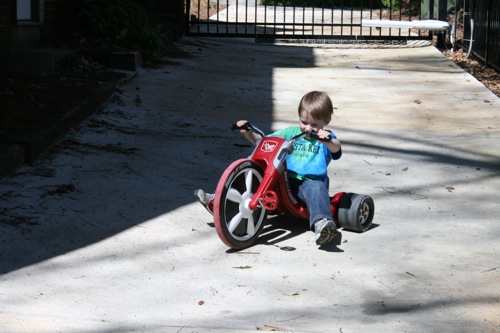 But as he picked up speed he temporarily lost his ability to hear which resulted in him not hearing me as I yelled at him to put his feet down to slow down or stop.  He crashed at the bottom of the hill and it definitely shook him up.  I convinced him to get back on and try again, this time making sure he heard me tell him to put his feet down.  Here he is at the top of the hill for another go at it: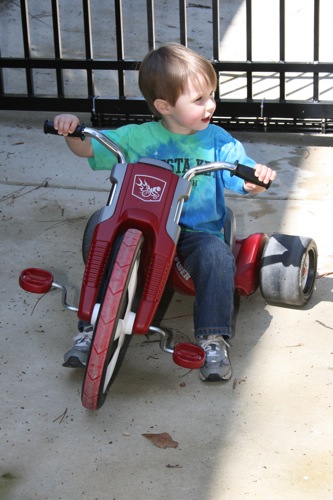 As he was making his way down the hill, Walker went up for another go at it.  Here's how the scene played out: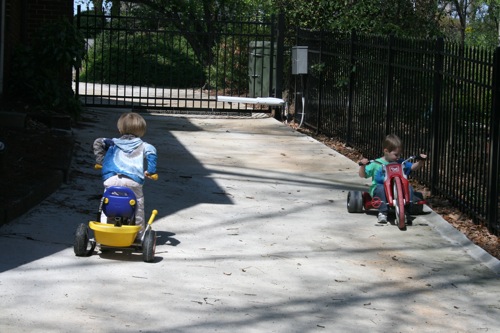 Here comes Walker.  Liam's still making his way down.
Still going…
"Hey Walker, where'd you come from?"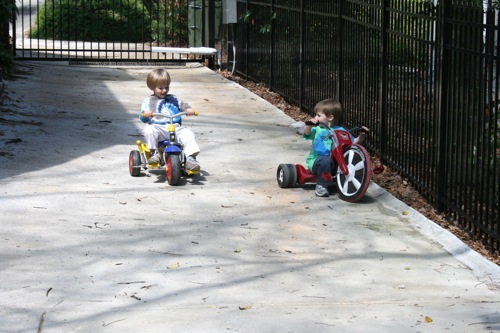 And there goes Walker…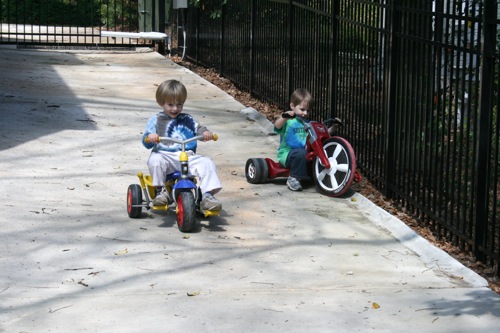 Liam's almost made it to the bottom of the hill:
And there goes Walker, again.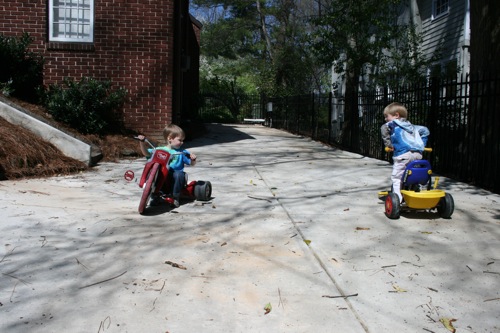 Finally all the way down!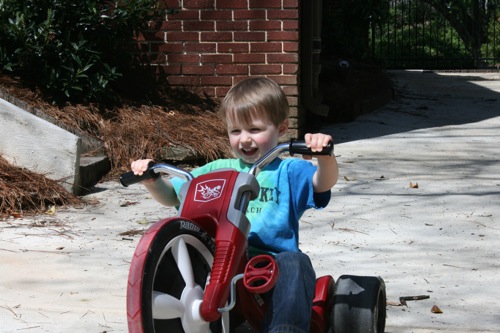 After surveying the speed at which overly cautious cycling landed him at the bottom of the hill, he opted for running: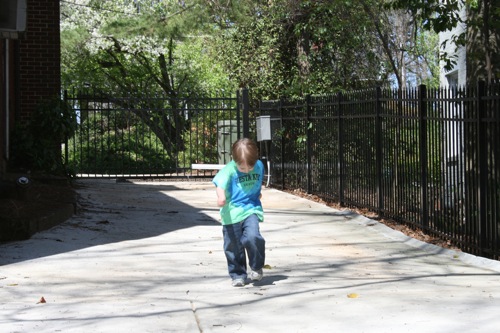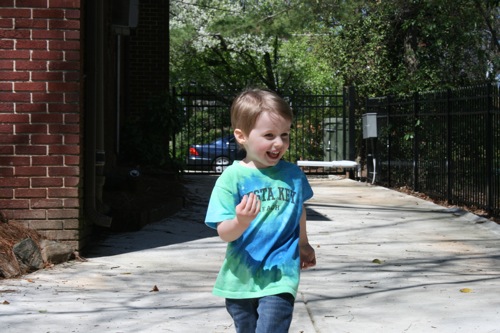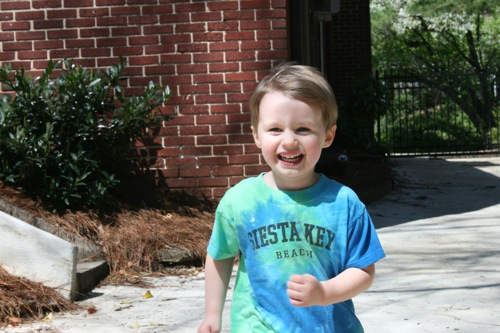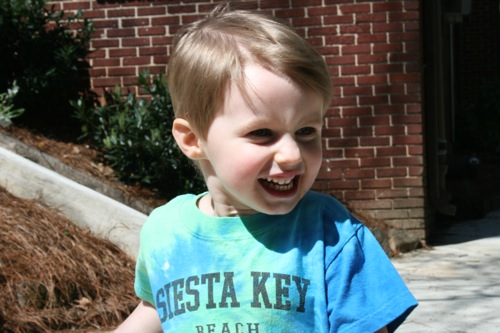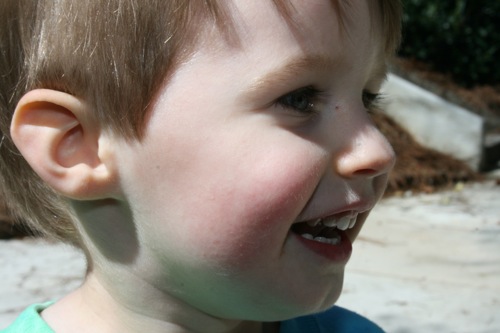 Walker does a little climbing: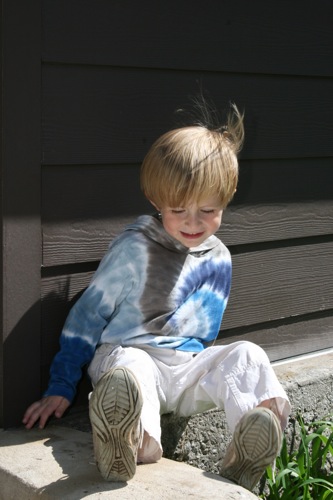 Sweet boys:
I've been waiting for three years for pictures like these: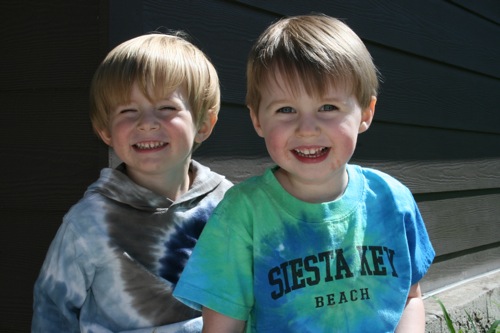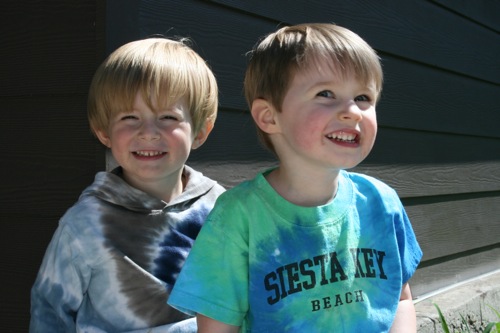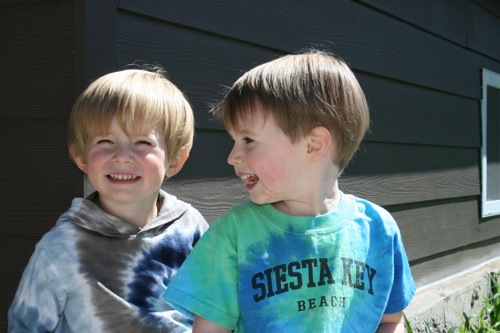 Back in the saddle(s) again: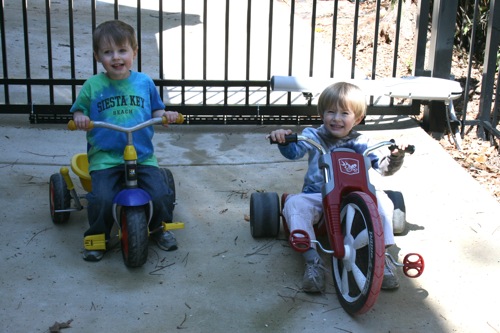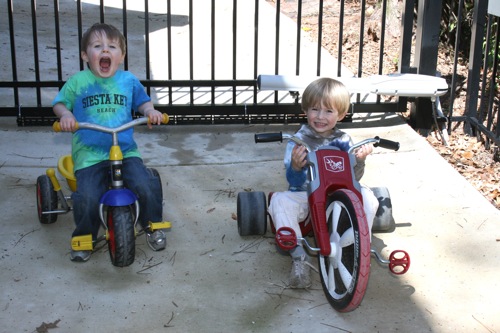 Go Walker, Go!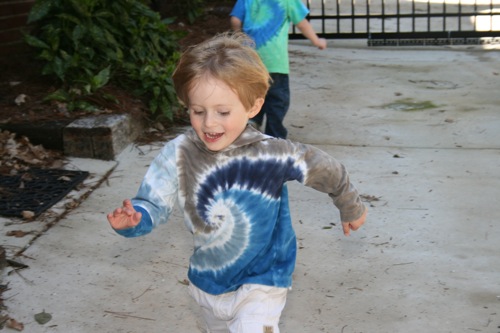 Liam tries a little climbing of his own:
I love these pictures: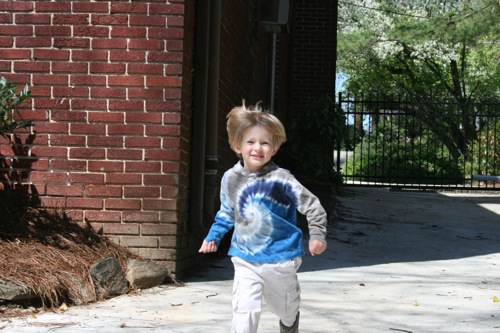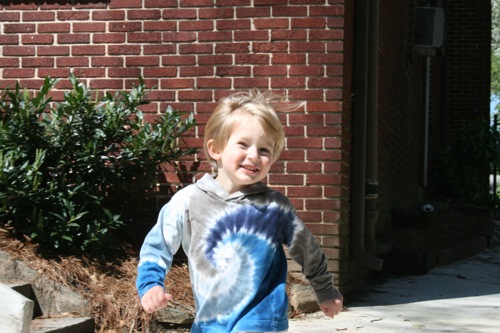 Such unmitigated joy: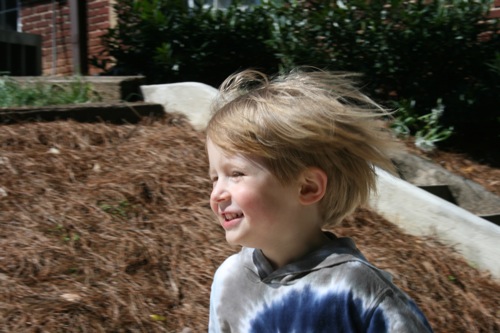 Partners in crime: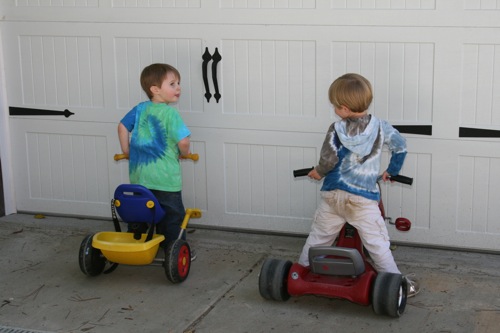 Welcome home, Ollie!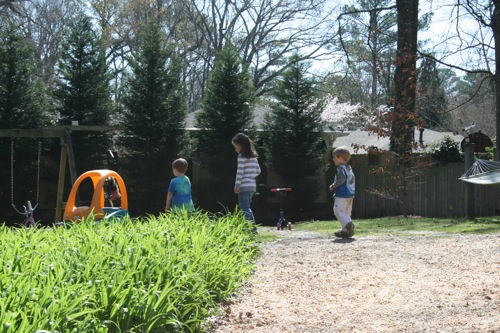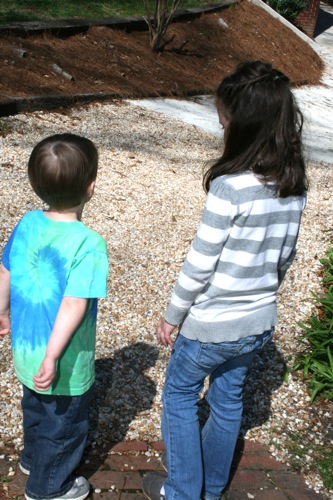 There are no words.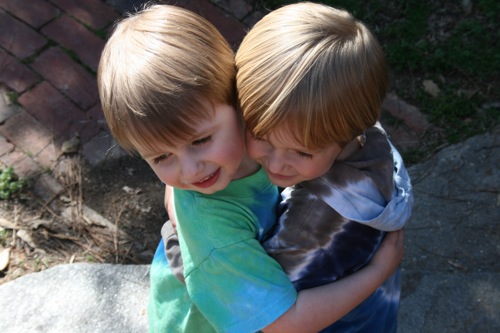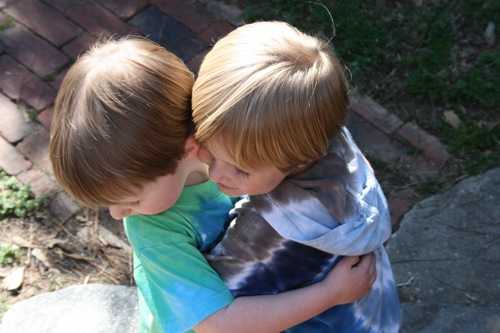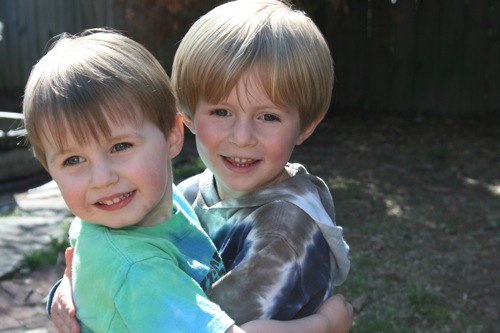 Just another example of how different these boys are:
Liam was taking his time carefully walking along the edge.  Walker didn't want to wait for him anymore…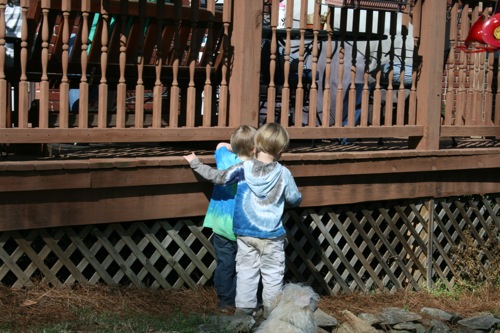 At least he was very gentle about it: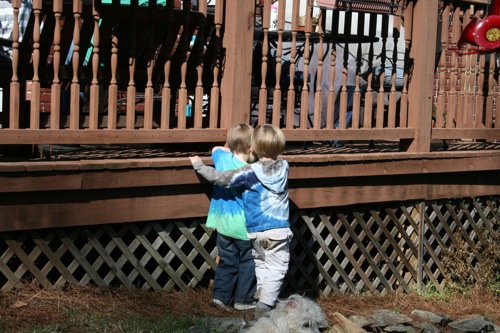 Even knowing the context, I love this picture: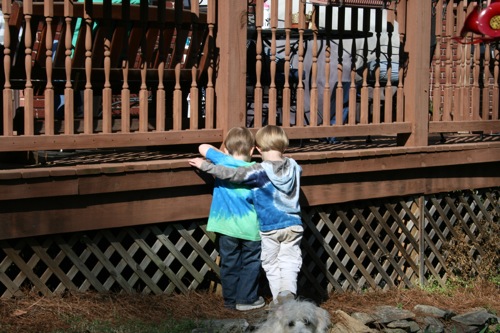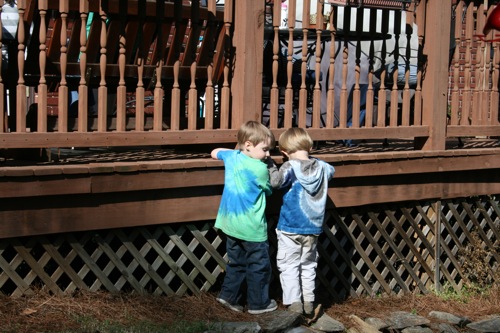 Aaaaannnnd, he's off:
And Liam's still working his way along the ledge…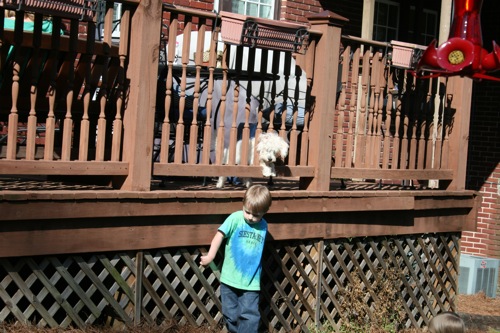 It was a fantastic afternoon and hopefully we'll be able to do it again very soon!