"I wonder if I could hang upside down from the bar?"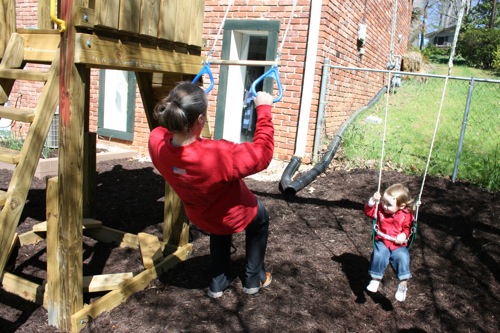 "Maybe if I go around to the other side and try to bend my leg into an extremely unnatural position…?"
"If you can't laugh at yourself…"
Paige is starting to grow genuinely concerned. Â With good reason.
"There's nothing that the 'tongue-of-great-concentration' can't fix. Â Right?"
"Errr…laughter is the best medicine…?"
Persistence.
"Weeeeellllll, shoot."
The best part of this picture is the fact that Paige can't stop watching and Liam doesn't think/know/realize there's anything to watch. Â And also that face/body position of mine.
Quitters never win.
And winners never quit.
But even winners show their hineys to the world from time to time.
This is about the point at which I realized I had no exit strategy…
Even Liam wondered how I was going to get out of this one…
Childhood is so much fun. Â Even when you're 33. Â Maybe *especially* when you're 33.